Careers Hero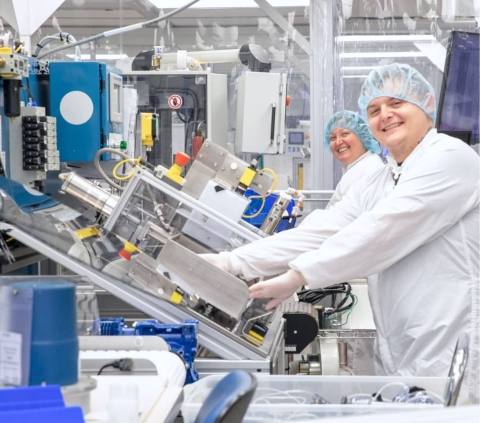 Careers —
Your 
career

 at Atrion starts here.
Full Time
1st Shift
Onsite
Hourly
Job Summary
Job Description
To observe Molding Machines and peripheral equipment for proper operation.
Duties and Responsibilities
Read and follow Work Instructions, Manufacturing Procedures, and Job Instruction Sheets.
Keep area around machines clean.
Label boxes for accepted parts with required work order information.
Visually inspect parts. Place acceptable parts in labeled box. Seal box when correct quantity has been attained.
Place scrap parts in appropriate red scrap bin.
Place sprues/runners into appropriate container.
Notify Supervisor of any recurring defects identified.
Pull correct number of samples per MP or JIS for QA Inspection. Label the bag with the date, machine number, part number, and shift.
Notify supervisor when leaving workstation.
Ensure that material label on parts container matches the label on the grinder.
If machine is down, assist other operators or clean work area.
When machine stops, notify the appropriate person immediately.
Check one shot from machine hourly to ensure that none of the cavities are blocked and that all cavities are producing acceptable parts.
Adhere to all Atrion policies including safety, attendance, and personal hygiene requirements per the Atrion Employee Handbook.
Qualifications
To perform this job successfully, an individual must be able to perform each essential duty satisfactorily. The requirements listed below are representative of the knowledge, skill, and/or ability required. Reasonable accommodations may be made to enable individuals with disabilities to perform the essential functions.
Basic Math skills
Ability to communicate effectively
Specific vision abilities required by this job include close vision, color vision, depth perception, and the ability to adjust focus.
Strong attention to detail and accuracy.
Education
High School Diploma or GED.
One to two years of related experience and/or training, or an equivalent combination of education and experience preferred.
Physical Demands
Up to 1/3 of time is spent walking, stooping, kneeling, and reaching with hands and arms. 2/3 or more of time may be spent standing or sitting. 1/3 to 2/3 of time may be spent lifting up to 25 lbs. 2/3 and more of time may be spent lifting up to 10 lbs.
Work Environment
The work environment described here is representative of that an employee encounters while performing the essential functions of this job. While performing the duties of this job, the employee will work around electric injection molding machines interacting with others in the same work area. The noise level is typically moderately loud.
PPE
Hairnet
Beard cover (if needed)
Eye and Hearing Protection as needed for job specific tasks.
Other
Additional requirements for operators producing CE components
---